Dr David Buckle BVSc MANZCVS
Practice Owner
David is a local boy, having grown up a dairy farm at Jancourt East. He completed his veterinary degree in 1995, graduating from the University of Melbourne.
The first few years of his veterinary career were spent in all three major dairying areas of Victoria, along with an 18 month stint working in the United Kingdom and Ireland.
David moved to the Allansford Veterinary Clinic in 2000, then along with Simon and Xavier established the Hampden Veterinary Clinic in 2009.
His main areas of interest are dairy cow lameness treatment and prevention, as well as transition cow management. David takes great pride in mentoring graduate veterinarians and is part of the Academic Associate program through the University of Melbourne Vet School.
Away from HVC, David is the father of three daughters and believes he has developed quite an expertise at all things netball. His daughters would beg to differ!
He is a member of the local golf, cricket and football clubs and he still maintains that Essendon are building a future premiership team. Family holidays to Port Douglas are his most treasured times of the year.
Dr. Simon Dean BVSc (Hons)
Practice Owner
Simon Dean was born and raised on a sheep and cropping farm east of Stawell, in Victoria's southern Wimmera region.
After completing his secondary schooling locally, at Stawell Secondary College, Simon began his Veterinary Science Degree in 1994 at Melbourne University, graduating with honours in 1998.
Simon's rural background has been a key influence on his career, even while studying; while at University, he was awarded a Department of Primary Industries scholarship, continuing his work with the Department for six months following graduating, focusing on bovine johnes disease, enzootic bovine leucosis control and eradication programs.
In May 1999, Simon began working in a private veterinary practice in Kyabram, where, once again, dairy was the main focus of his practice and interests.
A move to south west Victoria came in July 2000, where Simon continued his focus on dairy, whilst also developing his equine, sheep and small animals skills.
2005 saw a stint in the United Kingdom where, across several practices in rural England and Wales, Simon again extended his experience working with cattle (mainly dairy), as well as equine, sheep and small animals.
In 2006, he returned to the south west, working in a local vet practice, until commencing as a foundation partner at Hampden Veterinary Clinic. He combines this with family life with wife Fiona and their four young children.
APAV accredited, Simon is also a JD Map (cattle) accredited veterinarian and Australian Cattle Vets Accredited Pregnancy Tester.
Beyond the clinic, Simon maintains a key interest in farming, football, golf and tennis; he has played football with local Hampden and Warrnambool and District league clubs since moving to the region in 2000 and is currently a member of the Cobden Golf Club and Hampden Tennis Association. He is also a member of the Noorat Primary School Council.
Dr Xavier McKinnon BVSc
Practice Owner
Xavier grew up the son of a 3rd generation dairy farmer just outside of Terang in South West Victoria.
After attending school locally he boarded at St. Patrick's College in Ballarat for the last 3 years of secondary schooling. Upon graduation he attended Melbourne University for his first year of study before completing his Veterinary Science degree at the University of Queensland in Brisbane.
Xavier worked for 3 years at Korumburra in South Gippsland, primarily dealing with dairy cattle but also treating dogs, cats, sheep and horses. After this he moved to England for 3 years where he worked for the Westpoint Veterinary Group based out of West Sussex.
After leaving England, Xavier worked as a consultant for BPU meat Uruguay for 3 months in 2008-09. After finishing in Uruguay in February 2009 Xavier returned to Australia to join the newly formed Hampden Veterinary Clinic.
Xavier has a passion for dairy cattle medicine and herd health strategies to minimise disease and maximise profits. He has completed the Repro Right course run by Dairy Australia – this course focuses on reproduction in dairy cattle, encompassing calf health, bull fertility as well as cow fertility – and is currently undertaking the Countdown milk quality course. He is a PregCheck accredited pregnancy tester as well as a BullCheck accredited bull tester. These are quality assurance programs run by the Australian Cattle Veterinarians ensuring the customer receives a high quality service from experienced vets.
Xavier is also an APAV accredited veterinarian (APAV is the national program designed to integrate private veterinary practitioners into the national animal health system to support the international standing of Australia's animal health service capability).
Xavier currently consults to a beef cattle breeding and feedlot farm in Kazakhstan, where he travels to twice yearly and communicates regularly with the on site managers.
An active member in the local community, Xavier has been involved as a player and coach with the Terang/Mortlake football club and as a committee member for the Western Branch of the Australian Veterinary Association.
Dr Anthony Down BVSc (Hons)
Practice Owner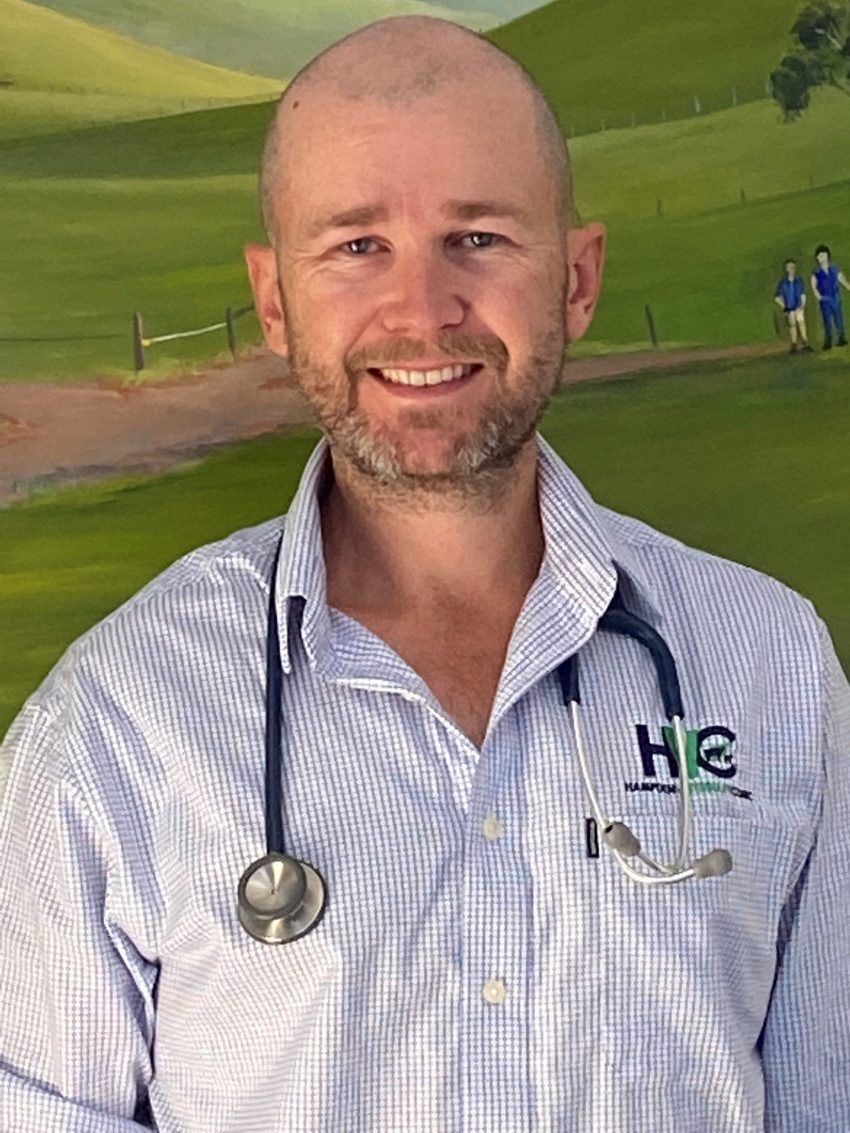 Anthony grew up on a sheep and beef farm in Codrington. After completing school in Warrnambool, he made the journey to the Sunshine State for his Veterinary degree, which he completed in 2004. He spent 10 years as a mixed practice vet, in Cobram, the UK and Warrnambool before focusing solely on small animals. He has a particular interest in surgery, and is passionate about being able to offer orthopedic solutions to clients locally.
Anthony owns a crazy labrador called Cricket, who never returns to him when asked, and a 3-legged Burmese named Sammy, who spends 95% of his life sleeping on the couch.  Outside of work Anthony like to spend time with his family, and exploring new places in his caravan.
Dr Wendy Parish BAgSc DVM
Wendy grew up on a dairy farm in Winchelsea, Victoria.  She moved to Melbourne in 2014 to complete her Bachelor of Agriculture degree from the University of Melbourne, before graduating from her Doctor of Veterinary Medicine degree in 2020.
 Wendy moved back to her family farm with her husband and joined the HVC team in 2021. She has a passion for production animal herd health with a special interest in dairy, sheep, and goat medicine.
 Wendy owns an energetic kelpie called Ivy, two pet goats, Devin and Siddle, that eat all the garden plants and a small flock of pet sheep. Wendy likes exploring the local beaches, lakes and walking tracks with her husband and kelpie. She also enjoys reading trashy novels in her spare time and travelling to new destinations. 
Dr Erin Craven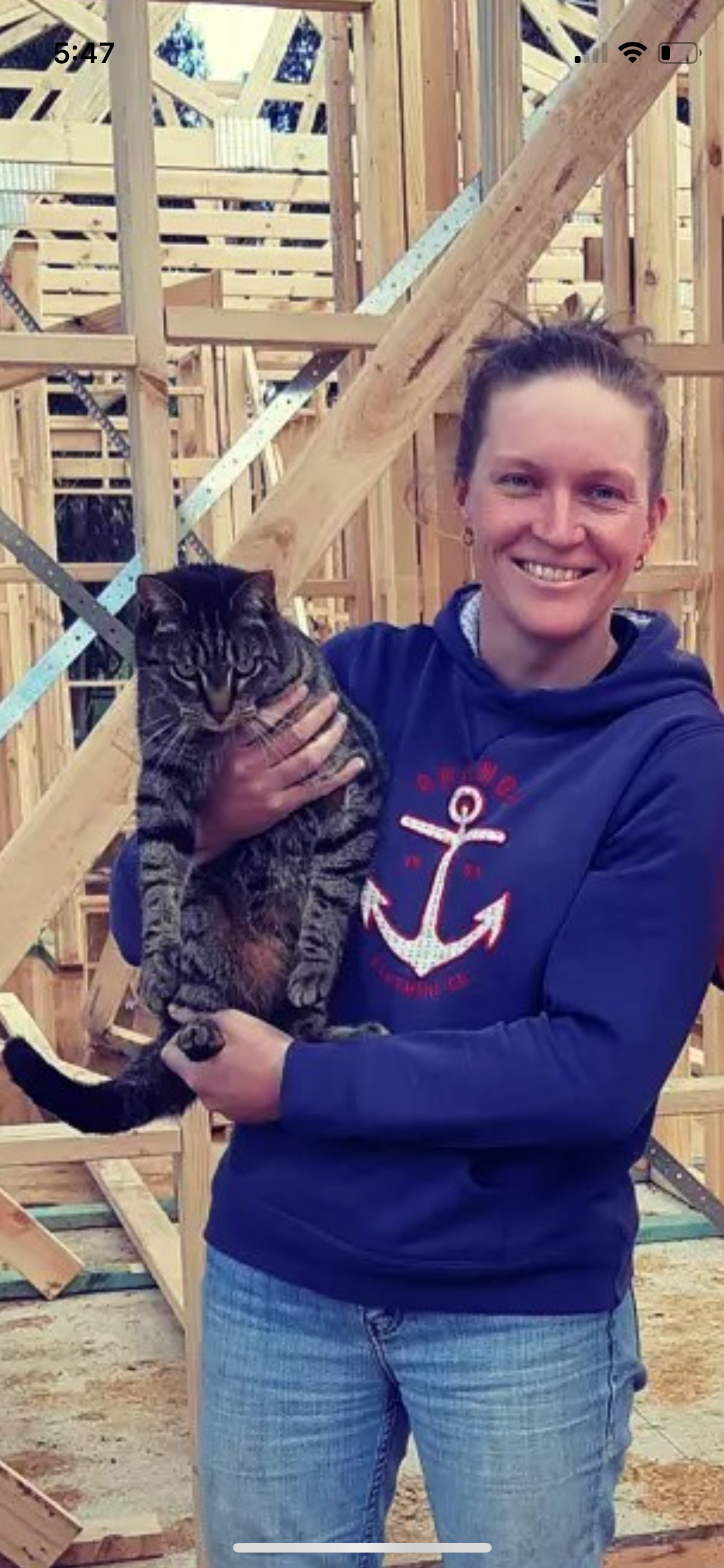 Erin was born and bred in the south west, where she went to school in Timboon, and spent her weekends playing netball for the Timboon Demons. Her family has a dairy farm with stud Holsteins, which she still spends lots of time at. 
Erin started working at HVC in April 2022, before that she has worked at WVC for 4 years as a mixed animal vet, after completing her veterinary studies at Charles Sturt University in Wagga Wagga. 
She has a special interest in cattle reproduction, and has completed the ReproRight & Countdown milk quality courses. 
These days Erin spends her time on her small farm with her husband, their dog Murphy & cat Eddie. She enjoys running, drinking coffee, and cooking.
Dr Cathryn Saunders-Donaldson BSc DVM
Cathryn graduated from Murdoch University in December 2021 and made the brave move from sunny WA to Cobden to start her journey with the Hampden Vet Clinic team.
Cathryn grew up as an avid horse rider and initially wanted to be an equine vet but after spending two weeks on a beef farm in WA's southwest she fell in love with cattle and decided mixed practice was the career for her. She enjoys all aspects of large and small animal practice but has a more focused interest in all things feline, cattle medicine and calf rearing, husbandry, and medicine.
When she's not working, Cathryn spends her time catching up with friends and keeping warm and cosy with her two cats Hudson and Richard in the winter. In the summer you'll find Cathryn exploring the national parks and looking for the best margarita in Victoria. Cathryn also volunteers for the local shire in fostering and raising orphaned kittens.
Dr Sophie Ellis BSc DVM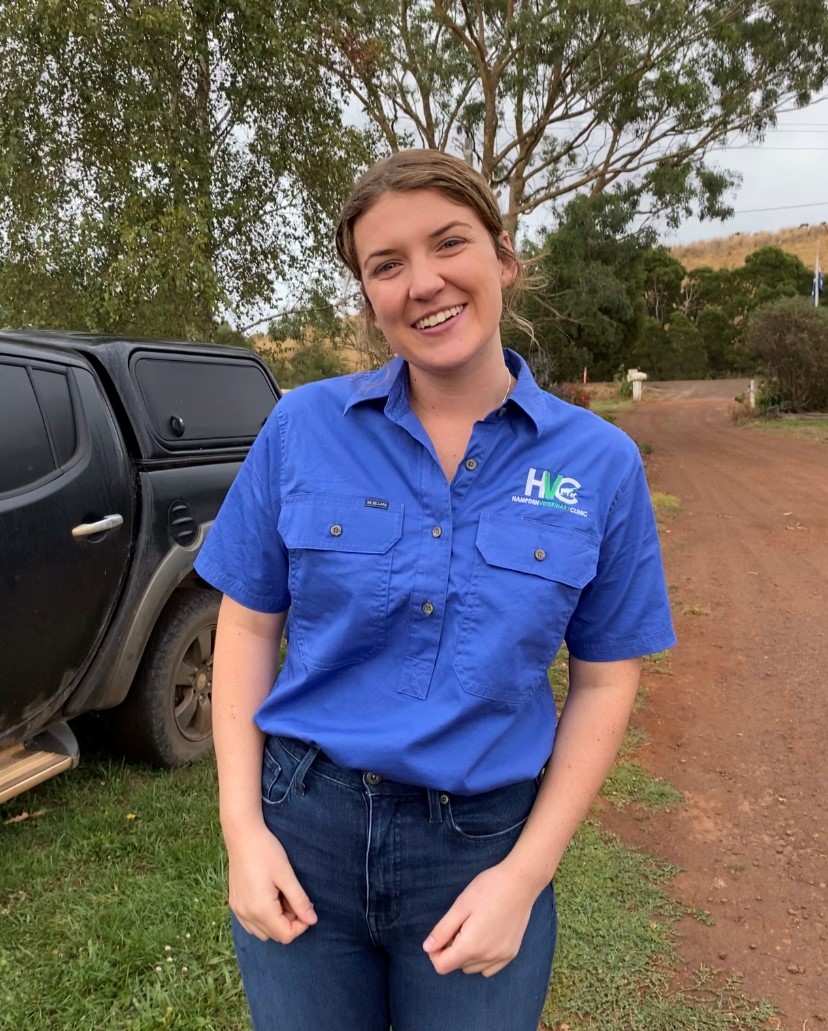 Sophie joined HVC in 2022 after graduating from Murdoch University in Perth in 2021. She has jumped straight into enjoying aspects being a new vet has to offer including bull testing, calvings, small animal surgery and puppy cuddles! 
Sophie spent her childhood travelling and living many places around Australia and the world with her family, before landing back in the southwest of WA. Her household consisted of crazy siblings, dogs, birds, fish and chickens! 
After farm placements in her earlier years of uni, she quickly developed a passion for all things mixed practise particularly cattle medicine and has built on her skills ever since.
Despite the cold shock moving to Victoria, she's enjoyed the beautiful scenery the Victorian south west has to offer, going for road trips along the great ocean road, running, and hiking with her partner in her free time.
Dr Eliza Wuestner